But for a very good reason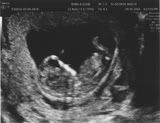 This is the latest addition to our little family :) I'm currently 15.4 days and going quite nicely. No sickness just tiredness which has been great.
I've also bitten the bullet and joined tupperware as a demonstrator and am enjoying playing with all the fabulous product.
Unfortunately between this and work there hasn't been much scrapping from me lately. I have managed to finish knitting all the squares for my blanket now and should have it sewn up very soon!!