Basic Digital Scrapping tutorial based on Adobe Photoshop Elements 5.0
Open up your graphics program (I'm using Photoshop Elements 5.0, but this should be able to be done in other programs. GIMP is a good free one if you don't have one.)


To make it easier, I opened up all the files I would need, including photos. This is similar to getting all your supplies before starting a paper page. You can go back and look for the perfect embellishment later. For this page you will need to open up the following files, and just have them minimised


Tag this paper 4b

Tag this paper 4a

Spray paint

Messy dot

Boyz header

Plus the perfect boy photo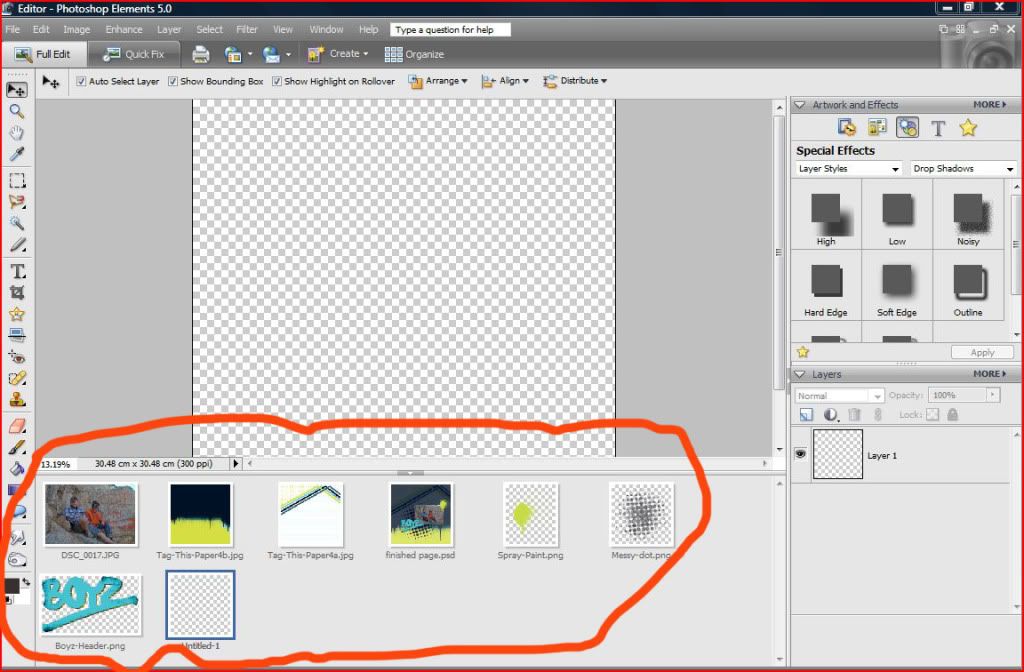 5. With both your new file and tag this paper 4 b maximised, drag, using the move tool, the paper into your new file. This should create a new layer. Adjust if needed by dragging the corners until you are happy with the placement.

NOTE: Layers are VERY important. They allow you to manipulate separate elements, without disrupting the entire layout.

6. Repeat with Tag this paper 4a. This should cover the other paper completely. Once it cover you need to go to the layers toolbox and change the opacity setting. I have changed mine to 24%, however have a play and see where you are happy. I have left the mode as normal, btu again, have a play, it can cause some really cool effects.
At this point I dragged and dropped the photo, messy dot, spray paint and heading to where I felt happy.


And Viola, you are done! If you save you file as a psd you can continue to change the layers at a later date. If your happy with it however you can save it as a jpeg as you would any other photo. This makes a smaller file, but makes it incredibly hard to edit later on.