Wow, alot has happened since my last post so I might start at today and work backwards.
I spoke with the lawyer today and it looks all good with the house, so we are sending the contract in tomorrow!! Very exciting!
IO got home from Bourke in a very motivated mood, and have finished 3 Layouts tonight.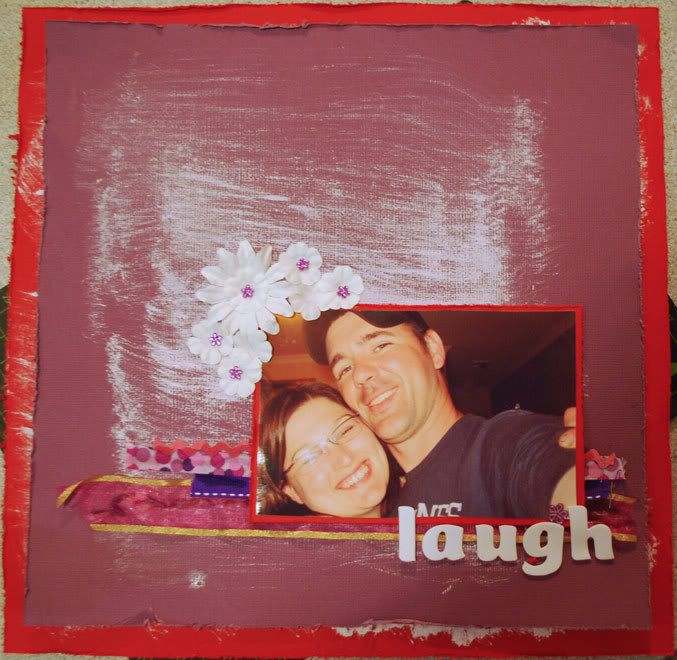 This one was for the
Out of the hat challenge
, to use red and purple, metal (there are staples holding the ribbon) and paint.
This was for a new challenge site I found based around my favourite books, the Twilight series, called
The Twilight Challenge
. The challenge was to scrap about your first car.
Finally, this one was for
Puzzle Sketches
, a new favourite of mine.
In other news, I won the Challnge Champion prize at
Scrap Therapy
again!!! So I get to choose another DTer to make me a LO!! Now to choose which one.
Rex and I went to Top Gear in Sydney on the weekend and had a great time. We flew to Sydney from Dubbo, which was a much better idea than driving. Unfortunately when we caught the train to Lidcome, we discovered Sydney can't cope when the heat gets over 30 degrees. We couldn't believe it, most of the trains weren't running and those that did were soooooooo slow!!! And Hot!!!
Finally got to the motel and it was a nightmare. The airconditioner and lights weren't working, and on the Sunday while we were out, the cleaners left the door open all day!!!!!!!!! Not happy Jan.
But then we heard about the fires in Victoria and I must say it put a lot of things in perspective. I'm hoping we can help out either through weight watchers or Scouts next week. Please everybody, they need our support!
Anyways I better run, gotta actually submit these LO's now that I've done them :)