Well I've been a very busy bee today. I've washed, cleaned , grocery shopped, went to church, ironed, prepared for weight watchers, scrapped and made jewellery!! Now I'm tired just thinking about that list!! I do still need to get some stuff ready for scouts, but hey, not bad for a days effort.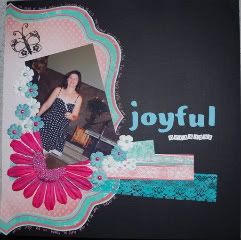 This LO, I did for the
Black with 2
challenge blog. This was their first challenge, and I can see myself trying a few more!!
These I just had the urge to make some earrings, after using the beads on the LO and spilling a heap down behind the desk. I'd love to be able to sell some jewellery, but I don't like my chances.
Anyway I still need to put away the clothes and organise some lunch for tomorrow. Please leave some love, I feel like I've writing to myself most of the time!!!!!