Most of you have probably already heard, but Rex and I are getting married. I think I'm still floating around up in the sky:)
For those who haven't heard the story here it is.
Rex had been in Griffith visiting family all weekend, so he got home we had dinner etc and after I was lying on thebed and he was on the ground next to me talking. He said he bought me a present for ditching me for the weekend and when I opened it, it was a ring! I'm not very often speechless, but then I was. He did have to tell me it was an engagement ring! It was definatly unexpected!!

And for the big reveal.... the ring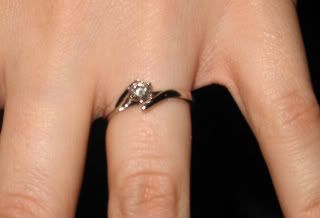 It was one I picked out ages ago, with my subtle hinting :D
Anyways I'm sure theres something I should be doing today!!